Prep time: 15 min     Total time: 2 hr 15 min     Serving: 10 serving
Ingredients
1 1/2 cups Oreo baking crumbs (or 24 Oreo cookies, finely crushed)
5 tablespoons butter, melted
900g plain cream cheese (4 cups)
1 3/4 cups powdered sugar
3 cups whipped cream
24-28 coarsely crushed Oreo cookies
Extra whipped cream, chocolate sauce, and Oreo cookies for topping (optional)
Steps
Combine the Oreo baking crumbs and the melted butter.
Press the mixture into the base of a spring form pan.
Whip the cream cheese on high speed until smooth and creamy.
Add the powdered sugar and continue to whip on high speed until it's well combined.
Fold the whipped cream and the coarsely crushed Oreo cookies into the cream cheese mixture with a rubber spatula just until it's well combined.
Pour the cream cheese mixture into the prepared pan and smooth out the top.
Chill the cheesecake in the freezer for at least 2 hours (4 hours or more is perfect)
Remove to room temperature for 20-30 minutes before serving and decorating with whipped cream, chocolate sauce, and crushed Oreo cookies (optional).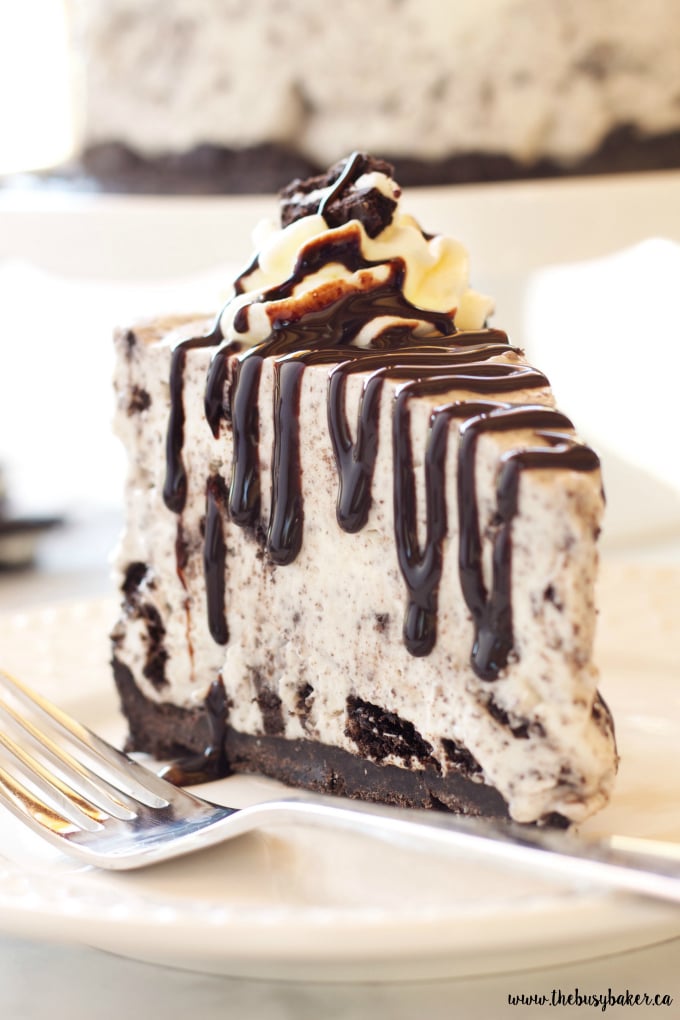 Thoughts
I tried this recipe, and it worked really well. My cheesecake turned out really good and tasty, so I suggest trying this recipe.
The original recipe: https://thebusybaker.ca/easy-no-bake-oreo-cheesecake/